You cannot select more than 25 topics
Topics must start with a letter or number, can include dashes ('-') and can be up to 35 characters long.
README.md
URL Shortener
URL Shortener ist eine grafische Oberfläche für Kutt, um Kurzlinks zu beliebigen URLs zu erzeugen.
Anwendung
Ersteinrichtung
In der Konfigurationsdatei ~/.urlshortener werden die URL der Kutt-Instanz sowie der API-KEY gespeichert.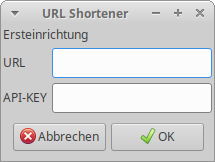 Kurzlink erzeugen
URL (obligatorisch): Eine beliebige URL einer existierenden Webseite, für die ein Kurzlink erzeugt werden soll. Befindet sich in der Zwischenablage eine URL, so wird sie hier automatisch eingefügt.

Kurzlink (optional): Frei wählbar oder zufällig erzeugt.

Wiederverwendung (obligatorisch): Existiert bereits ein Kurzlink zu der URL, dann wird bei true kein neuer Kurzlink erzeugt, bei false wohl.

Verfallszeit (optional): Der Kurzlink wird gelöscht, wenn die Verfallszeit abgelaufen ist: 5m für 5 Minuten, 2h für 2 Stunden, 30d für 30 Tage.

Passwort (optional): Beim Aufruf des Kurzlinks wird nach einem Passwort gefragt.

Beschreibung (optional): Die Beschreibung wird in der Weboberfläche von Kutt angezeigt.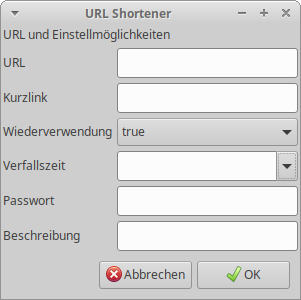 Installation
Folgende Programme müssen installiert sein, damit URL Shortener ordnungsgemäss funktionieren kann:
bash

yad

jq

curl

notify-send

xclip
URL Shortener ist auch als AppImage verfügbar.